The Moderation Center is a control panel accessible by Forum Moderators and Administrators. It contains advanced moderation tools to help the forum and prevent spam.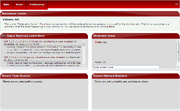 Directories
Edit
Main

Moderation Center

SMF Latest News
Moderator Notes
Recent Topic Reports
Recent Watched Members

Moderation Log
Warnings
Watched Members

Posts

Unnapproved Posts
Unnapproved Attachments
Reported Posts

Active Reports
Old Reports

Preferences
Moderation Center
Edit
The moderation center, or the main page of the moderation panel, contains SMF news, recent topic reports, recent watched members, and moderator notes. All these options can be turned on or off in the Preferences section.
Displays all the latest news from Simple Machines.
Moderator Notes
Edit
Forum Moderators can leave notes for other moderators to see.
Recent Topic Reports
Edit
Displays all topics that have been reported by members.
Recent Watched Members
Edit
Forum members who have a warning level of 15% or more will appear here.
Moderation Log
Edit
Displays all moderator actions including post edits, topic removals, topic moves, and topic locks. Logs can be deleted after 24 hours.
Displays all forum users who have warnings issued to them.
Warning Log
Edit
Displays warnings assigned to users. Displays who issued the warning, when, and for what reason.
Custom Templates
Edit
Displays custom warning templates. When issuing warnings, these templates may be used depending on their settings and scenario.
Watched Members
Edit
Members who have a warning level above 15% will appear here.
View by Member
Edit
You can view warning levels per users.
View by Post
Edit
If a warning was given for a specific post and was above 15% it will appear here.
Unnaproved Posts
Edit
Displays posts that need approval because the poster has a warning level above 30%
Displays unnapproved replies.
Displays unnapproved topics.
Unnaproved Attachments
Edit
Displays attachments, such as pictures or files, awaiting approval.
Reported Posts
Edit
Displays posts reported by forum users.
Active Reports
Edit
Reports that have not been reviewed.
Old Reports
Edit
Reports that are 24 hours old and have been reviewed.
Preferences
Edit
Allows you to select a variety of options.
Items to show on moderation homepage:

SM News
Moderator Notes
Reported Posts
Recent Watched Members

Show open report count in forum header? (Tickbox)
Notify of topic reports?

Always
Only if it's a board I moderate
Never

Notify of items awaiting approval? (Tickbox)
Community content is available under
CC-BY-SA
unless otherwise noted.